| | |
| --- | --- |
| Posted on July 24, 2020 at 5:20 AM | |
Warm tears streamed down my cheeks when I discovered my chilhdood friend passed on.  My hand trembled as it attempted to move the fork in my mouth to eat another bite.  I dropped the fork and excused myself from the restrauant table.
The goal?  Composure, for eff sake! 
Years of public education, nonprofit work, an abundance of air planets in my chart, law of attraction books, Eastern philosophy teachings, male social conditioning, and even my life coach training convinced me to think my way out of feeling.  Emotions can be counseled through wisdom, distance, and perspective!
I was a good King of Cups!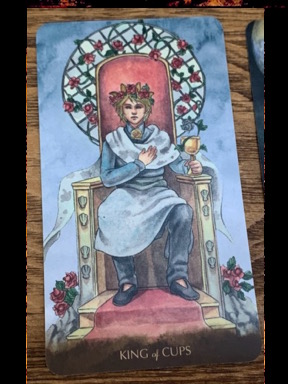 I quickly ran inside the restroom to gain my composure.  Predictably, I lost my calm face even further.  I crumbled on the bathroom floor as grief broke the dam around my heart and flooded my entire being . 
The memory of two boys in the forest was forcing me to feel the grief and remember myself.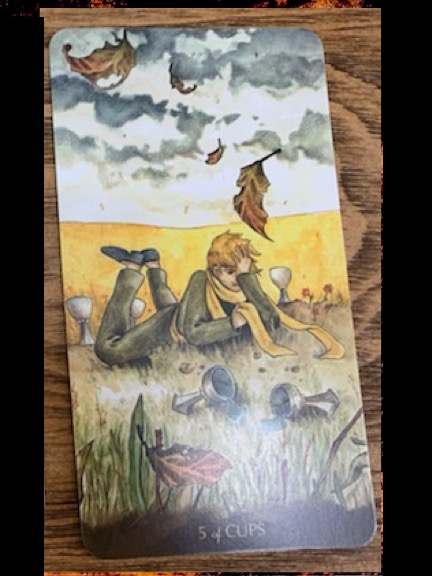 The reaper (I will give him the benefit of the doubt and not call him grim!) entered my life and had quite a harvest the past few years. I lost my father, a brother, both my cat companions, a program I built, a past student, and two friends.  There are photos of me with fellow LGBTQIA community  members from the 90s and I am the only one alive in the photos.  Each experience brought its own brand of grief, wisdom, pain, and growth.  
The death of my childhood comrade?  This was something else.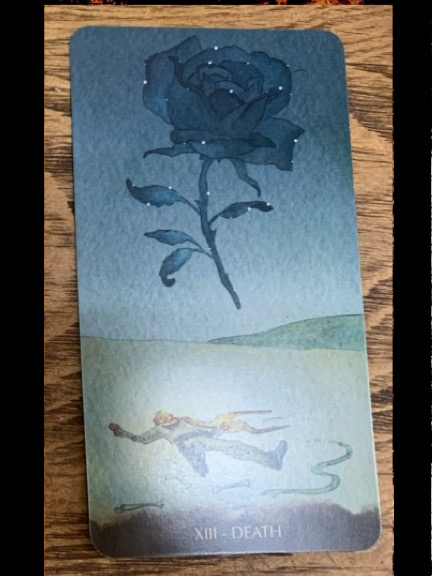 We met each other when we were barely a year old. Or so we were told.  We felt like two apples that fell from the same branch. 
Or, maybe we hatched from the same cosmic egg!
We knew each other and experienced the world before norms, expectations, societal identities, the values of others, and other social constructs sunk their talons into us. 
Remember the movie Stand by Me?  I was definitely the Will Wheaton to his River Phoenix.  Now, he is a river and a phoenix.
Let's call my childhood friend River.  Typing his given name feels a bit too tender.
We spent years exploring the woods near our homes, befriending the woodland animals, wading our feet in ponds, and creating an imaginary friend or two.  He made me tell him stories at night before we went to bed.  I remember us laughing at cartoons.
 I likely laughed with him more than I have in my adult life, and I laugh a lot.
We knew the inner strength of the other before the world defined what strength is and is not.  River was known for introducing himself to others by squeezing their cheeks and reminding them to smile.
Often, inner strength is finding a reason to smile despite your circumstances!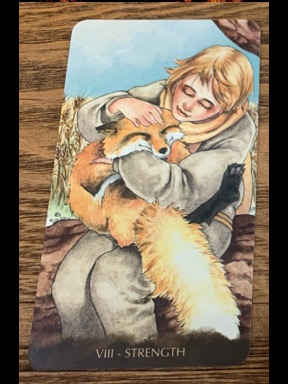 Much of our time was spent in nature.  We might have been nature spirits then.  Who knows?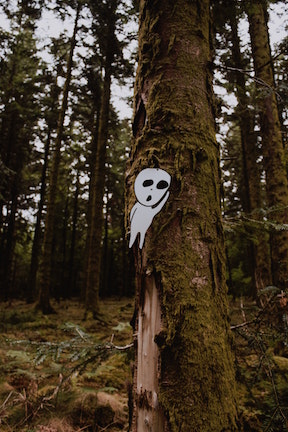 We consoled each other when one of us fell down, cried when the other cried, and protected one another from the infamous, slapsticky antics of older brothers!  
Those years felt endless.  
Time went on. Those imaginary monsters under the bed that are figments of our fears?  They proved themselves a bit more real than anyone wants to admit.  
River developed drinking and drug issues by the time we entered high school.  Anger and aggression often came through him as it does with many men and their traumas.  I discovered I was gay in high school.  Being queer in the 80s and 90s meant moving somewhere else and forgetting parts of where I came from.  Before I left for college, I visited River and a few of his other friends at a party. 
Out of nowhere, he announced the following declaration,
"If any of you came out as gay, I would kick anyone's ass who would try to kick your ass!"
What a great shot of confidence in the ass!
I went to college and experienced the challenges, traumas, and scattered triumphs many queer young adults faced at the time.  River futher sunk into substance abuse and anger.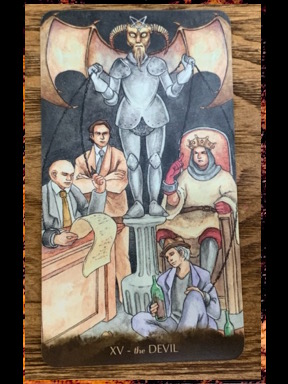 He got into a car crash and lost use of one of his arms.  Afterwards came years of rehab, depression, and other mountains. These challenges did not define him.  He also became a father, learned guitar, worked in technology, and remained friends with all the forest animals.
Adulthood came.  I still visited him at least once a year for many years.  Both of us became wiser, wittier, and a bit more scarred and wounded.  We held a bond that is unique to other relationships.  
River and I endured the monsters under the bed and in the closet!  We triumphed despite our shadows and wounds!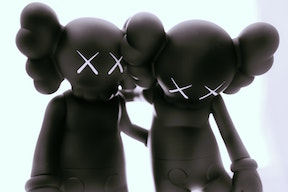 He came to see my father during his final days and broke into tears.    Both he and his older brother told us that my family helped raise them.  You often don't realize the impact you have on others until the reaper comes to harvest. 
River died a few months after my father.
His death brought out that boy who told River stories at night under the stars, adopted and raised a turtle with him, and rescued injured animals from the road together.  
My inner child had awakened.  He is a part of me that experiences the world with heart, wonder, fear, and no irony.
It was a Tower moment.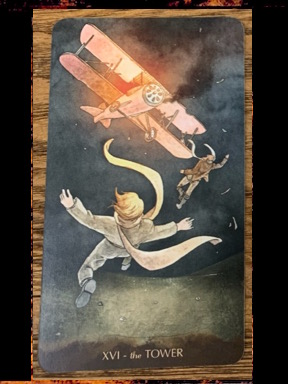 I attended his funeral.  His brother came to me and said something I will never forget,
"You are in so many photos with him.  There were two times in his life when he was happy.  One was when his son was born.  The other was his childhood with you, Phil."
You might know a bit about Mercury retrograde. Communication challenges!  Technology hiccups!  Or, Venus retrograde and its warrior of love aspects!
We are now in Chiron retrograde.
Chiron was a centaur in Greek mythology known for his skills in healing wounds.  He was also a protector of children.  Many called him a wounded healer.  He healed others because he knew what a wound can do to the body, mind, and heart.
In astrology, Chiron is the name of a celestial body that connects to your core wound in this current lifetime.  Also, it describes your ability to heal others! 
Many believe that Chiron retrograde brings a wonderful opportunity to mend this core emotional wound.
One way to do this is to access your inner child, 
Scary, a bit silly, somewhat embarrassing, and nonetheless wonderful, right?  Many cannot break the addictions, limiting beliefs, and inner demons that haunt them, let alone know what caused them.
Your inner child might know the answer.  It remembers the first time you laughed and the first time you were afraid.  Your inner child knows the first time you felt pain, felt rejection, felt happy, and felt love.
Who were you before you "grew up"?  
Too many are experiencing amplified depression, anxiety, and hopelessness in our current global challenge.  The line outside the liquor store across the street keeps growing.  Others are experiencing relapses with addictions, anger, and other habits that they feel ashamed of.  The first question new clients sometimes ask is, "When will this end?"
My answer?
This global challenge will end when it does.  However, you are forever!
That is why I created a session that focuses on inner child work.  I use tarot decks that access your inner child and an oracle deck called "The Peartree Oracle" that is both pastoral and fantastical.
The session is meant to take you back to a time when your forever self was your only self.
The world that is experiencing a pandemic, political upheaval, isolation, traumatic attacks on human rights, and economic collapse?  It remains a world where your inner child felt joy when it climbed a tree, felt the sunshine, ran in the rain, and made a new friend.
I cannot remember if I ever told River that I loved him and he remains a brother to me.  It was likely a given at the time.  
I love you, River.  You were the best apple to fall off a tree with.  I will start giving names to forest animals again in your honor.
Two of Cups is a card from tarot that often indicates a strong connection between two individuals.  Many decks show two individuals toasting to their romance, friendship, marriage, or other socially created connection.
The Two of Cups from Tarot of the Little Prince says so much.
The Prince is surrounded by a dying, barren land.  His only relationship is with a single rose that grows from the earth despite the crumbling landscape.  The prince pours his heart from his cup into the cup of the rose.  That way, the flower can grow and prosper.  From their hearts a new world is born!
River, I will use our time together well.  I will use it to grow this world into something better than it was before.  Our planet must remember itself.  I will do my best.  With your memory in my heart, my best might be enough!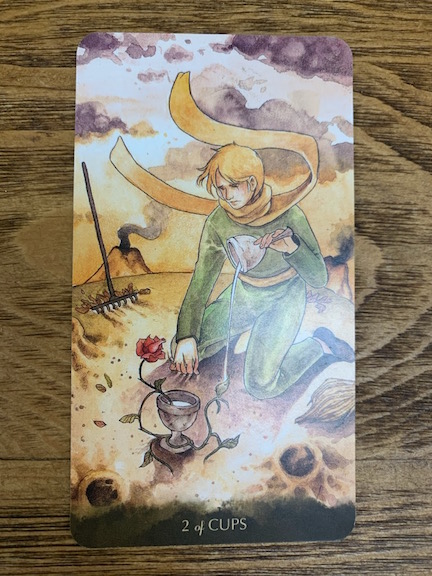 What can your inner child tell you about your hopes, your fears, and your heart right now?
The Tarot of the Little Prince published by Llewellyn Worldwide!
Categories: None