Venus enters Virgo today!
The month of September was the season of Virgo.
I am fortunate to have many friends and family members born under the sign of the crop-choppin' virgin!
Virgo is ruled by Mercury and connected to The Hermit from tar...
Read Full Post »
Leo Season concudes today!
I have many friends and wonderful clients born under this sign. Both The Sun and Strength from Tarot connect Leo.  I will show images of each card as I gush!
Many of you know Tarot of the Cat People.  It was my first tarot deck gifted over twenty years ago.  
Read Full Post »
Warm tears streamed down my cheeks when I discovered my chilhdood friend passed on.  My hand trembled as it attempted to move the fork in my mouth to eat another bite.  I dropped the fork and excused myself from the restrauant table.
The goal?  Composure, for eff sake! 
Years of public education, nonprofit work, an abundance of air planets in my chart, law of attraction books, Eastern philosophy teachings, male s...
Read Full Post »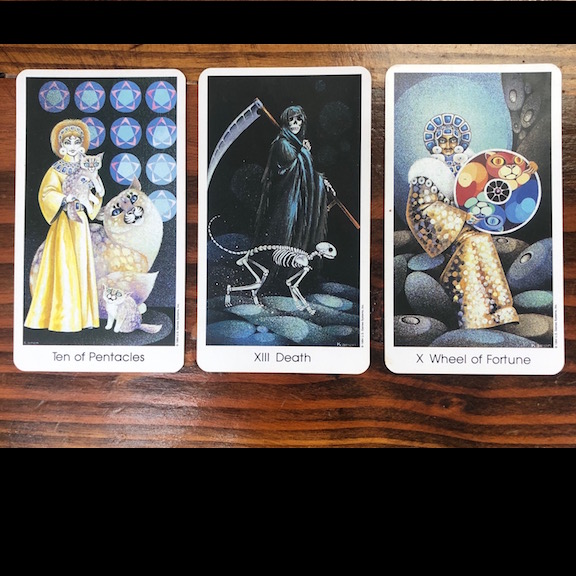 Ten of Pentacles.       Death.        Wheel of Fortune.  
These cards kept appearing in readings days before the world changed, potentially forever.
Read Full Post »
What a time for a first blog, right?
I kept telling myself as I created this website and worked with in-person clients that a blog is a great idea!  However, I kept letting it slide in fear of it being more of a blahg.
You read that correctly.
Read Full Post »